Welcome to the website of Pauline Firks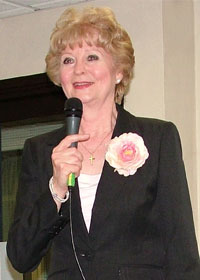 A warm welcome to my website and thank you for visiting.
I believe that there are two worlds - the spirit world and the earthplane and that the spirit world is our true home and we return to earth many times to learn life's lessons through which the soul evolves.
Love is the greatest force of all with which loved ones, including the animal kingdom, communicate with us. I continually strive to improve and expand my mediumship and spiritual knowledge in the hope that I can inspire, uplift and prove in detail that life goes on.
If you would like to hear a recent audio recording of Pauline demonstrating at the Healing Hearts Centre, Bulphan, please click here
To see Pauline at a recent demonstration of Mediumship at the Beacon of Light, Enfield, please click here.
To see Pauline demonstrating at a charity evening in aid of Poppy's Animal Rescue please click here.
To see a short demonstration of Pauline working at the Healing Hearts Centre, Bulphan please click here.
Costa Blanca Feral Cat Trust Update - January 2017
Costa Blanca Feral Cat Trust Update - January 2016
Costa Blanca Feral Cat Trust Update - January 2015
Costa Blanca Feral Cat Trust Update - February 2014
Costa Blanca Feral Cat Trust Update - August 2012